I'm writing a series of historical romance epics called Warfare, set in a re-imagination of the Edo period in Japan. Stay up to date with the latest by subscribing to Madi Grace!
Here are the first three books I'm focusing on, but there will be at least a total of six.
As always, I believe in creating God-honoring moral fiction that points to Jesus with excellency, never cheesiness. The Warfare series has no extreme violence, foul language, or inappropriate scenes, though I ask a maturity level of 12-13+ or a parents' permission in beta reading signup forms.
WARFARE BOOK I: ONE OF THEM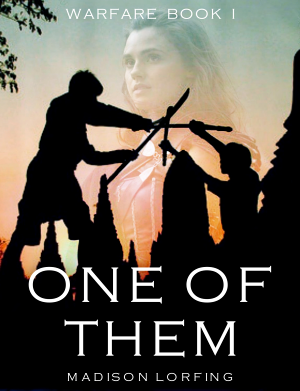 All kunoichi warrior Ari Kireina wants is for someone to deem her worth something. But when she willingly fails her most important mission yet, she ends up on the run and then finally on the hunt for the man she failed, deems her worthless, and wants her most—with the help of a samurai warrior torn between his hatred and his love for her.
Status: Making final updates on scene outline
Drafted: Four times
Will begin writing 5th draft: January 1st, 2018
Beta reading: Signups open early May 2018
Cover: By Madison Lorfing
Alpha reading by invite only.
WARFARE BOOK II: PURSUIT OF NO ONE
When samurai warrior Hinoki Ajin'omoto disappears out of the blue, desperate and love-driven kunoichi warrior Ari Kireina gives up everything to start the hunt. Finding the man who holds her worth is easier said than done, however, when his friends who want to help also happen to be her enemies, and she's up against the most ruthless bounty hunter Japan has ever known.
Status: On pause
Drafted: Once
Will begin writing 2nd draft: January 1st, 2019
Beta reading: Signups open early May 2019
Cover: By Sarah
WARFARE BOOK III: REASON ENOUGH
After finding the man she was striving to save, kunoichi warrior Ari Kireina tries to break it to herself that Hinoki Ajin'omoto might not hold her worth after all. But when her master's dirty secrets come to light, she's forced to fight with Hinoki side-by-side against the teacher she loved most; making her realize why she fell in love with Hinoki in the first place and Who truly does have reason enough to deem her priceless.
Status: Not started yet, but I've done a ton of daydreaming.
Drafted: Not yet
Will begin writing 1st draft: January 1st, 2020
Beta reading: Signups open early May 2020
Cover: By Madison Lorfing