There are 8,765.82 hours in a year. How many of them have we used to make an eternal difference this year already?
Each one's work will become clear; for the Day will declare it, because it will be revealed by fire; and the fire will test each one's work, of what sort it is. If anyone's work which he has built on it endures, he will receive a reward. If anyone's work is burned, he will suffer loss; but he himself will be saved, yet so as through fire.
There's a day coming called Judgement Day.
This day is after the seven-year tribulation, and it's when we go to either Heaven or hell (where are you headed?). That's also the day where we give an account of every word we've ever said, every secret thing is brought to light, and some receive eternal rewards to cast at the feet of Jesus, if what they done has counted for eternity.
And that's also the day where our works on the earth will be tried by fire.
"T

he fire will te

st each one's work, of what sort it is."
Our hobbies, our accomplishments, our decisions—this is what's done here on earth. And on Judgement Day, it will be tested by fire. 
"If anyone's work is burned, he will suffer loss; but he himself will be saved, yet so as through fire."
Non-eternal works won't be able to stand the fire. Whether we've had thousands of subscribers, whether we've published a hundred books, whether we've won hundreds of sports games—that won't matter. It's trivial. It won't stand the fire.
If we believe in Jesus and He is our Lord, we'll still spend our eternity with Him, of course—but we'll have little to nothing to cast at His feet.
"If anyone's work which he has built on it endures, he will receive a reward."
Whatever it costs us on earth to do things that will last for eternity, we'll not only receive a hundred times more in this life, but we get eternal rewards. Huge mansions, priceless crowns, you name it. God knows you. He knows what you love.
(And when I say "eternity", I'm not talking about "oh, people will be talking about this forever!"—I mean eternal life after one dies.)
BUT ONLY WHAT'S COUNTED FOR ETERNITY WILL PASS THE TRIAL BY FIRE.
What kind of things count for eternity, anyway?
Things that influence others for eternity.
You can have thousands of subscribers. But it'll only last for eternity if you're reaching out to those thousands with eternal impact.
You can publish hundreds of books. But it'll only last for eternity if it impacts your readers in a Godly way.
You can win hundreds of sports games. But it'll only last for eternity if you giving the glory to God will impact fans to turn to Him.
IS WHAT WE'RE CONSUMED WITH; IS WHAT WE'RE AIMING TO ACHIEVE; IS WHAT WE SPEND OUR TIME DOING; WILL IT STAND THE TRIAL BY FIRE?
Two years ago, I looked at my blog (I was only running Delightful World of Dolls back then) and realized it was a worthless hobby.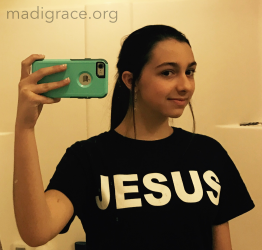 my favorite shirt!
Being the Jesus freak I am, it's not like I kept God out of my stories and posts. Because I didn't. I believe Jesus is the answer to all of life's problems, so if a doll faced a serious problem in one of my stories, the solution always had something to do with Him.
It was simply second-nature to me, something that comes out of a relationship with Jesus.
But I wasn't sure it would last for eternity. "When I stand before God and give an account for my life," I thought, "what will I have to say for the hundreds or probably thousands of hours I've spent on my doll blog?"
So I put up a page on my doll blog where others could read about the Gospel and give their lives to Jesus. Through that page alone and only what people have publicly admitted, 172 doll lovers have prayed the salvation prayer I have on there to date.
And that changed everything.
I didn't want to live my life concerned with trivial hobbies and get to Heaven with nothing to say for myself. I knew I was going to change lives and be in the ministry someday, but I didn't want to wait until I had graduated Bible college to start doing so. I wanted to do something now.
So in addition to knocking on doors, walking up to total strangers, and speaking to groups and at parties to tell people about Jesus, I now blogged with a real passion. My doll stories became ones where the characters learned how to overcome struggles thanks to Jesus or get their lives radically touched by His love.
My blog was no longer just a hobby. It became my ministry. And the best part? It's only gotten more fun from there. Because making an eternal difference should be something we love to do and that God's given us a passion for, not a grind.
THAT BEING SAID, WE'RE MEANT TO ENJOY THIS LIFE HERE ON EARTH, TOO.
Why do you think I blog about life undefeated? Okay, just kidding, you know why. Or you should.
God wants us to have a blessed, abundant life. That's one of the reasons Jesus even came! No heathen is going to look at the life of a Christian struggling their whole life long and want to serve their God. Please. Enjoy life to the fullest.
God loves us and wants to bless us. We can totally have fun. But making an eternal impact should be fun, too. Not all of us are called to the full-time ministry, but it's important to see everything through what my friend and fellow minister calls "the goggles of eternity".
EXAMPLES
Wow. What a creative subheading. My brain is on a roll now. Somebody pull out the record books.
How can we use our current passion to impact someone's life? Nobody's forcing you, of course—the passion and desire to use your gifts and talents for the glory of God simply comes out of being in love with Jesus. But if you do share that passion, it's easy!
Make sure your life on this side of eternity counts for the next side of eternity. Let your life make an eternal difference!
 This week, I challenge you to look through goggles of eternity.
Evaluate what your current life is consumed with. Look at your hobbies closely. Can you impact others for eternity by tweaking things? Do you already impact others through what you do?
P.S. Since I changed the focus of Madi Grace (for the ahem second time but nobody's counting are they), my heart has been at such peace and joy! I can't really put into words how right this feels. It's back to what it was when I first started it, and with every new post I publish, it just. feels. right.
Not everyone likes my posts now that they're "Christian", but God is bringing new people here every day now (people I've never even reached out to! *waves at new followers*). It's growing faster than when the focus was split. Being faithful, diligent, and obedient allows God to promote you in ways you can't do on your own!
A great reminder to always obey the voice of the Holy Spirit and His plans for you! You will not regret it. I certainly never have.