95% of Christians don't spend time with God every day.
Did you also know that weak devotions is the #1 trait ever backslider makes?
Weak devotions lead to wrong associations, which in turn lead to wrong decisions.
I'm a firm believer in the fact that it's nearly impossible to backslide if you're spending time with the King of Kings every single day.
Strong devotions not only keep us on the right path, but they have an innumerable amount of benefits attached to them according to all the promises in the Bible.
Today I want to dive right into the importance of spending time with God and what that time should look like.

I'M BEGGING TO BE PINNED. JUST HOVER OVER ME!
(And at the end of the post, I'm giving away these eight high-quality, printable time with God goal trackers to help you keep up a consistent everyday time with the King of Kings!)
THE IMPORTANCE OF SPENDING TIME WITH GOD
"A person is a fool to … not have a rich relationship with God."
– Jesus, Luke 12:21
Yikes! Who wants to be a fool?
(Hint: Not you!)
I talked all about this in my article Are You Properly Setting Yourself Up for Success in 2018?, but I'll recap and update it with:
We need to be meditating on God's Word constantly. Put God first and watch blessings explode area of your life. God promises us multiple times in the Bible (Genesis 39:2, 1 Kings 2:3, Psalm 1:1-3, Psalm 119:2, and especially Joshua 1:8) that when we keep His Word before us, everything we do will prosper and be a success.
You can tell what's really in a person by watching what comes out of them when they're squeezed. If the devil is being an idiot and lying to me, the last thing I want to do is start complaining and the first thing I want to do start saying what God has to say about things. In order to combat the enemy, we'd better have a good knowledge of what to combat him with: God's Word.
When we give God first place, everything else will fall into place. I actually reread this verse in my time with God today: Seek the Kingdom of God above all else, and He will give you everything you need. (Luke 12:31) Keeping God first place takes care of everything else. You think the National Football League doesn't take prime care of their best players? How much more does God take care of those who keep Him first priority?
WHAT SHOULD OUR TIME WITH GOD LOOK LIKE?
I'm also a firm believer that Jesus is our example in everything.
Christ … is your example, and you must follow in His steps.
(1 Peter 2:21)
In crafting our time with God, we should look to how Jesus did things. The Scriptures give us a clear example of three things Jesus did when spending time with God.
1. PRAYER
Before daybreak the next morning, Jesus got up and went out to an isolated place to pray.
(Mark 1:35)
After telling everyone good-bye, He went up into the hills by Himself to pray.
(Mark 6:46)
After sending them home, He went up into the hills by Himself to pray.
(Matthew 14:23)
Praying to His Heavenly Father was obviously a priority for Jesus!
Prayer is not only a powerful and effective weapon against the enemy (it's one of the weapons of our warfare), it's direct communication with God.
Most of us know that prayer doesn't have to be dull or boring; that it needs to come from our hearts and out of our mouth; that it's not reciting Scripture like a robot; and since God is our Best Friend, we should be talking to Him like one.
God loves it when we pray to Him. When I tell my dad or mom that I love them (I'm an affectionate person, so they hear it quite a bit!) their faces light up. Imagine how much more God adores hearing your precious voice!
What's more, He's always going to come through for you.
I have a list of prayer points that I go down. It's important to remember to pray for others too, as well as just thanking God for the things He's already done.
If you abide in Me, and My words abide in you, you will ask what you desire, and it shall be done for you.
(John 15:7)
(That's got to be the catchiest verse ever. XD)
God is a faithful Answerer of prayer; no one could convince me otherwise.
My family is in the ministry, and we live by faith; my dad doesn't get a guaranteed paycheck every week. Several years ago, there was a time where we were down to $13 in the bank. But as we prayed, God said Deuteronomy 1:11:
And may the Lord … multiply you a thousand times more.
Within 24 hours, exactly $13,000 came in—exactly one thousand times more than we had before!
A lot of people complain that "God feels so far away right now" in times of trouble, but if God's existence depended on our feelings, I don't know where He'd be right now. He's our ever-present help in time of trouble and adores it when His children talk to Him and believe Him for big things!
2. PRAISE AND WORSHIP
And Jesus answered and said to him, "Get behind Me, Satan! For it is written, 'You shall worship the Lord your God, and Him only you shall serve.' "
(Luke 4:8)
He is not ashamed to call them brethren, saying: "I will declare Your name to My brethren; In the midst of the assembly I will sing praise to You."
(Hebrews 2:11-12)
Not to mention the hundreds of urges to praise the Lord throughout the entire Bible. Praise and worship music (such as Bethel, Hillsong, Jesus Culture, your favorite Christian worship artist, etc.) is perfect for this.
God already gave us authority to move problems out of the way, so I don't rattle on and on about my problems in my time with God.
I'M BEGGING TO BE PINNED. JUST HOVER OVER ME!
When we grumble and complain, that's like opening the door and saying "Hey, devil! C'mon in!" because he thrives off of a negative atmosphere.
On the other hand, when we praise God for what He's done, we release words that the devil and his demons can't stand.
In doing so, we welcome the divine atmosphere of Heaven in our lives; in Heaven, we'll be praising God all the time. We even enter into God's presence, because God always fills those who are hungry and thirsty.
With praise comes joy. That's why the devil hates joy. If the joy of the Lord is our strength, what chance does he stand against you? Oh, that's right—he's defeated!
There is no better way to start your day off than in the presence of God and being strengthened with His joy.
It doesn't matter what you're going through. Praising and worshiping God takes our eyes off of all that and keeps us focused on God, which in turn keeps us in perfect peace. (Isaiah 26:3)
I've written a lot about praising God and the joy of the Lord being our strength in these articles:
Hah, that's more than I thought!
3. BIBLE-READING
When Jesus fasted for 40 days in the wilderness, the devil came to tempt Him. (Matthew 4:4, 7, 11)
Jesus had been studying the Scriptures His entire life (Jewish boys had to memorize the first five books of the Bible; all 156,733 words!) and rebuked the devil with the Word of God.
You'd think that Jesus wouldn't need to study the Torah. "Relax, guys. I'm the Son of God! I'ma do what I want."
But He made it a priority to keep Himself full of God's Word. The devil tried desperately to get Jesus to worship him, but Jesus shut him right up with what God had to say.
We should be reading the Bible every day. It's the most translated, most dangerous, most distributed, and the longest Book in the entire world.


I'M BEGGING TO BE PINNED. JUST HOVER OVER ME!
I really don't understand why most Christians haven't even read the entirety of the Bible. If "every promise in the Book is mine; every chapter, every verse, every line", shouldn't we know what we're promised? Why binge-read the latest series when you haven't read the most important Book?
The #1 way we hear the voice of God is through the Word of God. Filling our hearts and minds with what God has to say is obviously the best way to start our day.
If God's Word was a priority for Jesus Christ, it's a priority for me!
One of my personal slogans is "no Word, no work." (Some other cool ones are "no Bible, no breakfast" and "no devotions, no devices".) I don't get started on my work day until I've properly nourished my spirit.
Your Word is a lamp to my feet and a light to my path.
(Psalm 119:105)
CONCLUSION
Jesus Christ died and rose again so the relationship between you and God could be restored. What God wants is your heart. Does not the Lamb Who was slain receive the reward of His suffering?
Let's spend time with the King of Kings every day and make sure we've talked to Him, praised Him, and read His Word.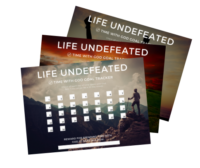 In fact… this is made easiest by some handy little printables I made!
Sign up for the Life Undefeated email list and receive eight high-quality, printable goal trackers to help you keep a consistent everyday time with the King of Kings.
Click below to get them!
HAVE YOU SPENT TIME WITH GOD TODAY? WHAT DO YOU THINK OF THE GOAL TRACKERS?